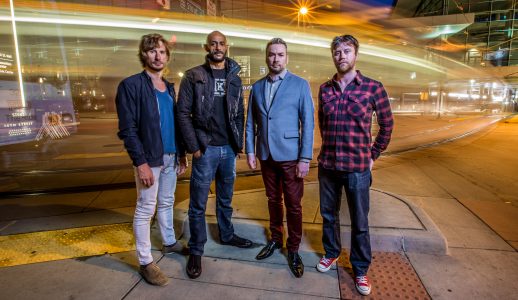 For their landmark tenth studio album, The New Mastersounds trace the New Orleans side of their funky family tree back to their roots. Made for Pleasure, due out October 2, 2015 from revered independent label, Royal Potato Family, was recorded at The Living Room, a converted wood-frame church directly across the Mississippi River from downtown New Orleans. The British foursome's latest collection of infectious grooves is steeped in those storied waters and the rich musical history they've carried.
For the occasion, The New Mastersounds – guitarist Eddie Roberts, drummer Simon Allen, bassist Pete Shand, and keyboardist Joe Tatton – invited several guests to join them in the studio. Longtime compatriot Mike Dillon recorded with the band for the first time, while former American Idol semi-finalist and Native American activist Charly Lowry leant her powerfully soulful vocals to three tracks. Tenor saxophonist Joe Cohen and trumpeter Mike Olmos, both members of Roberts' Stateside band, the West Coast Sounds, also joined the sessions. A late addition was Denver-based reggae singer Spellbinder, who added his distinctive vocals to an unexpected cover of Iggy Azalea's hit "Fancy."
The title Made for Pleasure – which is taken from the organ-driven, Meters-influenced opening track – captures both the band's guiding mantra and the raucously seedy underbelly of the Big Easy. "That's very much the ethos of the band," Roberts explains. "We make music for our own pleasure and for other people's pleasure. It's about sharing energy with an audience, whether it be live or listening at home."
That energy was in flux when the band reunited in the studio for a week last January. Roberts, usually the Mastersounds' chief songwriter and musical director, found himself suffering an unusual bout of writer's block. Far from resulting in a less-inspired album, however, the affliction led to the rest of the band contributing ideas and developing them live in the studio, leading to their most collaborative effort to date.
"It was a very interesting and exciting week," recalls Allen. "As it unfolded we wrote and developed a whole load of new things, some of them going in directions that we've not gone in before. It was scary initially, then exciting, and then very satisfying at the end when we realized we had a really great record."
That collaborative spirit extended to the recording itself; The Living Room's 3,500 square-foot space allowed all of the musicians, including the horn players, to record live together in the same space. That was especially unusual in the case of the horns, which have traditionally been overdubbed on New Mastersounds albums. "In the past the guest horns haven't really influenced the writing process of what we're doing," Allen says. "But on this record they were with us while we were jamming in the studio, so grooves and tunes that might not have gone anywhere suddenly came to life because they were coming up with top-line melodies to make sense of our grooves."
One such tune is "High & Wide," a brisk, up-tempo tune that evokes the punchy, buoyant horn- driven funk of classic American R&B. The horns are also a key element on "Let's Do Another," a cinematic tune reminiscent of both Headhunters-style funk-jazz and vintage action films – an impending gunfight or car chase looms heavily over the track.
Mike Dillon also contributes vibraphone and tabla to the latter tune, one of three appearances he makes on the album. While he's performed live with The New Mastersounds frequently over the years as their paths have crossed on the festival circuit, this is the first time their chemistry has been captured in the studio. The versatile percussionist, a member of Critters Buggin, Les Claypool's Fancy Band and Garage A Trois, also contributes congas to the classic soul-jazz sound of "Cigar Time" (penned by Roberts during a single cigar break) and percussion to the relentlessly anthemic "Enough is Enough," featuring Lowry's impassioned vocals.
Roberts initially encountered Lowry during a gig with Everyone Orchestra in the vicinity of her North Carolina home. The guitarist was immediately blown away by her knockout voice and her dedication to the Native American cause. "She's so natural and she's got things to say," Roberts enthuses. "She's an amazing being and I was excited to work with her." She also sings on "Just Gotta Run" and the upbeat, gospel-inflected "Joy."
Spellbinder came into the picture after the recording session was completed, when Roberts happened upon him "toasting" – the reggae equivalent of hip-hop freestyling – in a Denver bar. "I loved his voice and they were very conscious lyrics," Roberts recalls. "So I went up to him after he'd finished and asked him what he was doing on Sunday. I was going in to mix the album that weekend, so I asked him to lay some lyrics down. I hadn't told the rest of the band, so when I finished the mixing I told them I had a surprise for them."
The surprise was an urgent vocal performance over the top of the band's first recorded excursion into reggae, a bold cover of "Fancy" by unlikely Australian rap sensation Iggy Azalea that had been suggested by Roberts' 18-year-old daughter. The song follows a similar dip into pop hits on the Mastersounds' previous album, Therapy, a cover of Bruno Mars' "Treasure."
The album's other cover stems from closer to home: "Sitting On My Knees" is a dose of classic British mod psychedelia by the Dave Pike Set, which becomes a showcase for Roberts' ferocious guitar playing. Also inspired by the homeland if "Just Gotta Run," a nod toward the Northern Soul scene of the '70s and '80s.
The New Mastersounds themselves have become as widespread as their influences since their founding nearly twenty years ago. Only Allen remains in their native city of Leeds; the band now has members living in such far-flung locales as Denver, Colorado and the Balearic Islands off the coast of Barcelona. They've also become collaborators with many of those influences, working with such idols and peers as Lou Donaldson, Corinne Bailey Rae, Grace Potter, Karl Denson, Melvin Sparks, Fred Wesley, Pee Wee Ellis, Maceo Parker, Zigaboo Modeliste, Art Neville and Ernest Ranglin.
"Within three hours of walking into the studio, we had ourselves a pretty unique, amazing track," says Tichenor. "After that, each and every day I felt we were onto something, creating what I believe is our best work thus far."
"I think that finally we all came together as a band," says Brad. "For the first time, it just felt like those kids in Bowling Green, Kentucky coming to a practice space, jamming and having a good time."