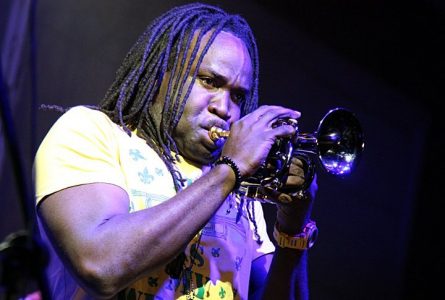 Shamarr Allen is the definition of New Orleans! Hailing from the Lower 9th Ward of New Orleans, Allen has influences in jazz, hip-hop, rock, funk rhythms, blues and country. He is the lead vocalist and trumpeter of his band "Shamarr Allen & The Underdawgs." In addition to performing with his band, Allen has collaborated with many renowned artists around the world such as Willie Nelson, Patti LaBelle, Galatic, Harrick Connick Jr, and Lenny Kravitz, to name a few. He is a sought after artist for festivals and venues around the world. In addition to displaying his skills on the front-line as a lead performer, Allen is also a music composer, writer, and producer. With a scintillating and unique sound, look, and exemplary talents, Shamarr Allen transcends musical boundaries. He is the True Orleans experience!
In 2011, he with his band the Underdawgs, were invited to tour Kazakhstan and Kyrgyzstan as cultural ambassadors for the United States State Department. Again in 2012, the Underdawgs were again invited by the State Department to tour Central Asia this time touring Kazakhstan and Turkmenistan. Also in 2012, Shamarr was featured on the New Orleans Jazz & Heritage Festivals' Congo Square poster (seen to the right).  In 2013, the band was honored to be invited to perform  at The John F. Kennedy Center for the Performing Arts, the national center for the performing arts in Washington, DC.  With all of those amazing achievements, Shamarr claims one of his favorite moments as being the first trumpet player to play the National Anthem for President Barack Obama. Ultimately, he played for the President twice, the second time with multi-platinum artist, Harry Connick Jr. at the White House.
The latest album, 'Bandhead', showcases immense musical diversity. Fusing elements of jazz, hip-hop, trap, rock, R&B, New Orleans bounce, pop, and marching band music, this album will blow listeners away. It delivers a powerful line-up of fun, hardcore, authentic music, with genre bending blends of his original sound, hip-rock. The widely played song Band Head, explains how the trumpet gave him a second chance at life by saving him from the rough streets of New Orleans. This album also has a new version of Sex With Me,  which is sure to delight new and old fans, while surprising fans with familiar cover songs such as Nothing But Trouble by Lil Wayne, Halfway by S-8ighty, and even Shake It Off  by Taylor Swift. This album was created with multiple instruments played by Shamarr Allen himself.  The "Bandhead' album totally goes against the grain, yet it is a stroke genius.