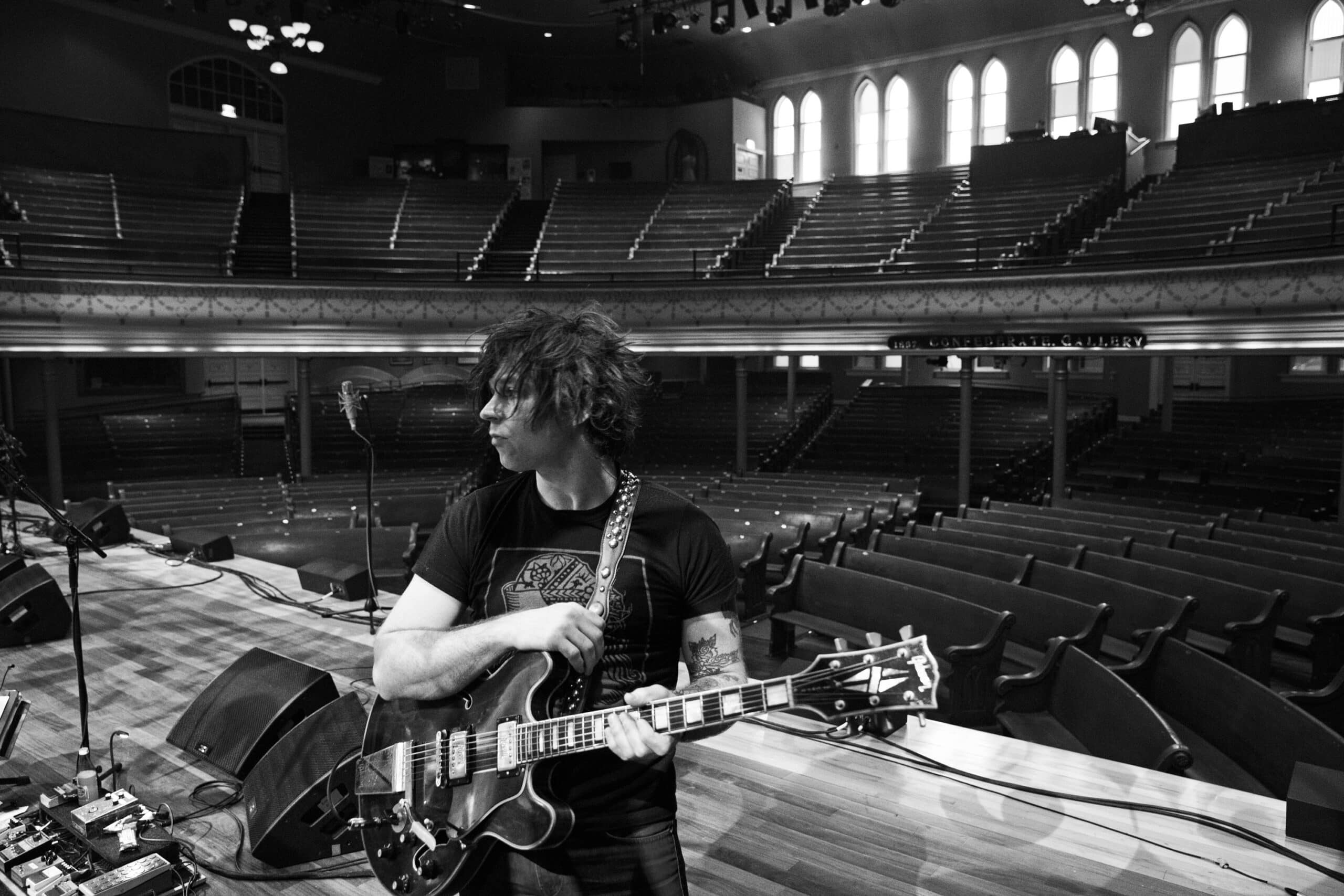 "What's more heartbreaking than any single event in life is the realization that every human being is trapped in a quest for love, trying to navigate a maze of desire. That's what this record is about. Nobody falls in love to fail."—Ryan Adams
With decades of acclaimed work to his credit, and accolades ranging from "one of the most elegant singer-songwriters of his generation" (The New York Times) to "one of the few truly great roots-rock troubadours left" (Entertainment Weekly), Prisoner–Ryan Adams' first album of all new original material since 2014's Ryan Adams—is primed to add new superlatives to the C.V. of Jacksonville, NC's most celebrated multiple-Grammy-nominee-and-zero-winner. Set for release February 17, 2017 via the partnership between his own PAX-AM label and Blue Note Records, Prisoner is somehow one of the most personal yet universal works of Ryan's mercurial catalogue.
Regardless of how history may come to see it, one fact rings undeniable when it comes to Prisoner: It was the only record Ryan Adams could make at this point in his life. As Ryan recalls, the title track was the third song written in the period of Prisoner's gestation, and the preternatural ease with which the lyrics and arrangement came to him was the point where the muse took hold. From that song on, Ryan was in the thrall of a record that was coming to life with him as a vessel.  "Some records are made by design," Ryan explains, "You feel like a carpenter making a bookshelf, creating that because that's what you do—but then there are records that come to you, like a waking dream but you're lucid. Prisoner is one of those records. I know for a fact that something deeper was speaking to me and I was just there taking notes. I was so engrossed in my experiences as a human being that this is the only record I could write."
Prisoner is heralded by the sudden arrival of first single "Do You Still Love Me?"—an opening salvo that "sounds bruised, reflective, and like his heart's on fire" (Vulture 5 Best New Songs of the Week) and was already killing it live on Ryan's 2016 touring run through some of the biggest and most enthusiastically received performances of his storied career—including first ever headline stops at Red Rocks and the Greek in L.A.. From there, Prisoner takes a hard left into a compelling series of studies of beauty wrung from pain and introspection. From the title track that gave Ryan the thread to weave the entire album from scratch, through the signature bittersweet restraint of second single "To Be Without You" (recently named Song of the Week by USA Today) to the classic Adams combo of uplifting melodies dredging spiritual depths on the just-released "Doomsday," Prisoner is a cathartic and compelling listen—and one that goes by all too fast. The songs virtually unfold before the listener in real time from sketches in the back lounge of a tour bus or live room of Electric Lady or Ryan's own PAX-AM studios—then by the time the album's occasional glimmers of light coalesce into an outright shine with the closing notes of "We Disappear," it's time to dive back in again…
Prisoner's immediacy is a direct result of its creator's all-consuming need to document the songs on the record as they came to him and took hold. Every rare and precious bit of downtime in the wake of 2014's Ryan Adams entering the U.S. chart at a career high #4—a frantic two year stretch that not only saw Ryan tour the world and receive two more Grammy nominations (Best Rock Song for "Gimme Something Good" and Best Rock Album), but also witnessed the release of his Live at Carnegie Hall chronicling two sold out shows at its namesake, while his full album cover of Taylor Swift's 1989 became his fourth Top 10 album—was spent in service to these songs, fulfilling an overriding urge to get everything out—and to get it 100% right. "I knew exactly the sound I needed for every note on this record and I'm very proud of the results," Adams says. "Literally weeks were spent weeks getting the right sound for everything—all the way down to the right piece of metal or pipe to bang on."
The there's the most obvious question of all regarding Prisoner—A question that is, in fact, so obvious that we're just going to skip straight to Ryan's answer: "People will ask if this record is about my personal life. The answer is yes–but the answer has always been yes. I've always written from experience, as someone who's used poetic and artistic license. When has there ever been a time when I haven't been doing that? Obviously, the record is about heartbreak, but it's more than just that. These songs are about finding the true nature of desire and finding out how much more heartbreaking that is than any single event in someone's life."
Prisoner was written, recorded and produced by Ryan Adams 2014-2016. While there were able assists from a supporting cast including "hostage negotiator and righteous bro" Don Was, drummer and best friend Johnny T. Yerington, stalwart bass player and engineer Charlie Stavish among others, everything on Prisoner was a direct transmission from Ryan's psyche and soul. This includes the cover, painted by Ryan himself and providing a final coda that somehow completes the album's narrative:  "The original album cover was a painting of a woman's face. When I went to look for it, it couldn't be found and eventually I accepted that it was lost. Instead I ended up using instead another painting from the same show that had hung in my living room unnoticed for five years. Ironically it was one of the last things to leave my old house, was almost thrown away. and has since been acquired by a private collector and has a safe and permanent home. There's a parallel there I'm sure, even if I'm not quite sure what that is…"
###
Ryan Adams' Prisoner is out February 17, 2017 on PAX-AM/Blue Note. It is the newest of his 15 studio albums–depending on how you keep count—which stretch back to his 2000 debut album as a solo artist, Heartbreaker—which received a deluxe reissue in 2016 and was named one of Rolling Stone's 50 Best Albums of the Decade. In addition to his self titled, double-Grammy-nominated 2014 album, Ryan's catalogue includes Ashes & Fire, Easy Tiger, Cold Roses, Jacksonville City Nights, Love Is Hell, and his 2001 major label debut Gold, which has sold nearly a million copies worldwide and features "When Stars Go Blue," quoted in Stephen King's Lisey's Story and widely known as "that Tim McGraw song that kid did on American Idol." Ryan Adams is also CEO of his own PAX-AM label and has also produced albums for Jenny Lewis, La Sera, Fall Out Boy, Willie Nelson, Jesse Malin, and collaborated with Norah Jones, America, Cowboy Junkies, Beth Orton and many others.