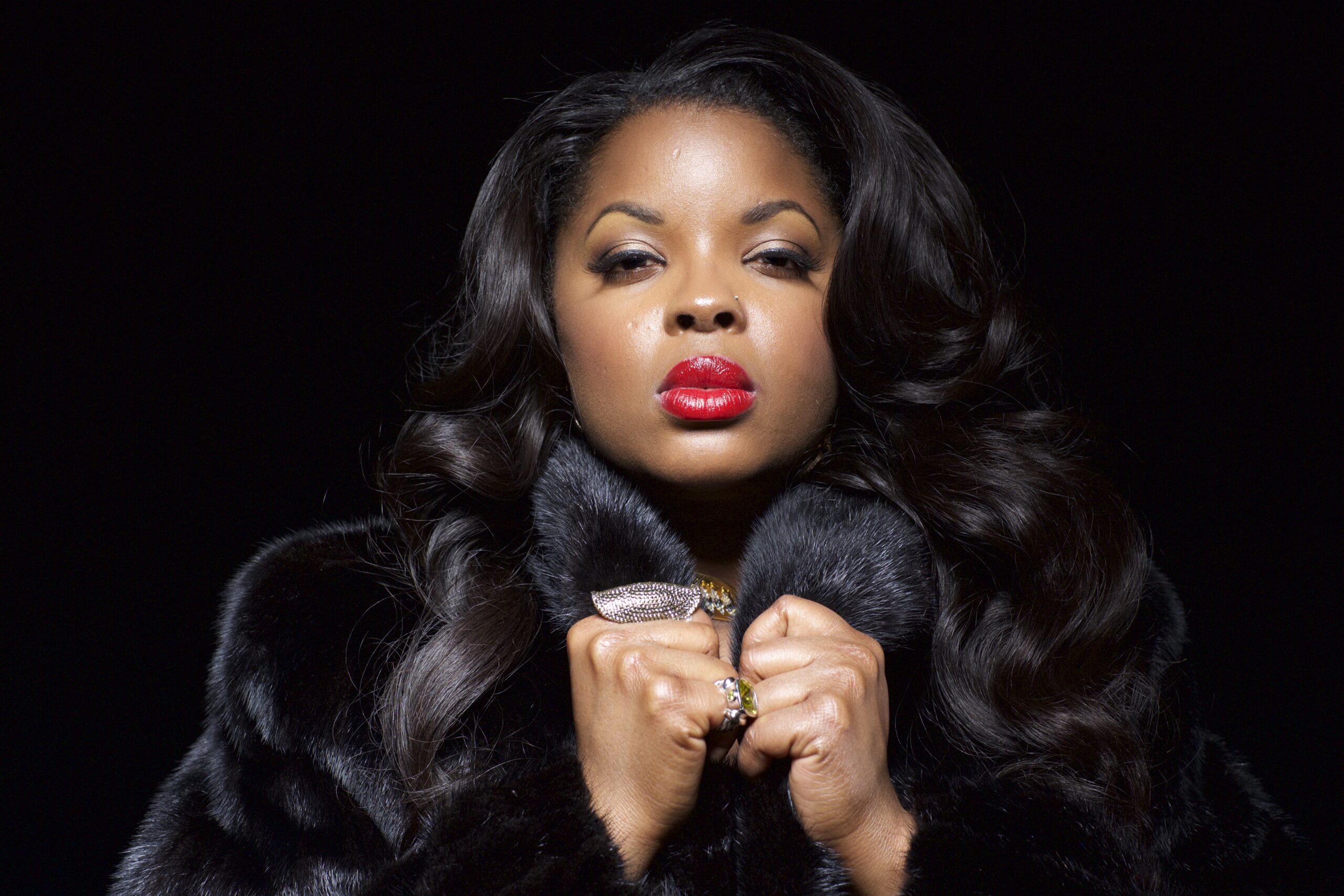 Virginia-born singer/songwriter Nicole Wray has everything you'd want in a singer: an infectious Jackson-5-family-member flare, a range like Aretha's, and a church upbringing that's brought a pure, healing texture to her voice. But the struggle she's been through has made her more than a singer. Nicole Wray is an artist.

When talking about Queen Alone, her first solo album in some time, Nicole explains, "It's a reflection of my soul. It's who I am today." And aptly so. Released on Brooklyn's Big Crown Records, Nicole is writing and singing songs about her life. And yet to even start to know her soul, you have to go back to the beginning.

Growing up in Portsmouth was tough at times for Nicole. Of course, there were aspects of teenage normalcy: the Sundays in church, hanging out with friends, her first real job as a temporary telemarketer. At the age of fifteen, life opened up quickly when Missy Elliot paid a visit to Nicole's family home to audition her on the spot. Missy was there on the rumored strength and quality of her voice. Instantly blowing her away, she signed and left with Missy that night. Two years later, in 1998, she had a hit gold single off a solid debut album (Make It Hot). Suddenly she was part of a team that included late '90s R&B and rap royalty: Missy, Aaliyah, Ginuwine, Playa, Timbaland and Magoo. She made it. And fast.

However, the only hint of a second album was a single ("I'm Lookin'"). As rapidly as she achieved success, Nicole then found herself needing to re-make it. By late 2001, her time with Missy and company had run its course. They amicably parted ways and Nicole, once on top of the R&B world, was unsure of what was next.

It was a very low, but important, point in her life. While her passion and talent propelled her forward–friends disappeared and her purpose seemed unclear. While neck-deep in this struggle, Damon Dash and Roc-A-Fella Records called. They signed an album deal and by 2004 she had a new single that was getting healthy play ("If I Was Your Girlfriend"). In what was starting to be a pattern, just as things were looking up, Roc-A-Fella then (famously) split and despite the strong single, there wasn't enough push to get her sophomore album out. Once again, industry factors beyond her control took charge. Like a recurring dream, Nicole found herself in a familiar situation. Having just been in the spotlight, and then again back living the "real life."

Besides the fickleness of the industry, life was also testing her. Nicole's father and his drug addiction strained her parents' marriage, family members had run-ins with the law, and friends passed away too early. Motivated by the pain, she pushed on, and through this duality of regular life and fame, Nicole came into her own. No longer that shy girl from Virginia, letting people write her lyrics and dictate how she sang songs–Nicole was more in control of what she wanted and was a smarter and sharper vocalist for it.

Maintaining her connection with Damon Dash, she did a few guest spots. Nicole's powerful voice had a huge presence on The Black Keys' Blackroc project in 2009 which led her to recording background vocals on The Black Keys' Grammy-winning LP, Brothers.

In 2013, Nicole paired up with London vocalist Terri Walker and released the album Lady. On Truth & Soul Records, Nicole and Terri had a backdrop supplied by the same musicians that helped make Aloe Blacc a global smash and Lee Fields a household name. Pitchfork said of the LP: "The singers clearly relish the opportunity to indulge in a little comfort food soul, resulting in an infectiously fun set with broad, cross-generational appeal."

Once again, Nicole was tested. Terri parted ways with the group to pursue her own projects shortly after the album's release–despite rave reviews and upcoming travel dates. Nicole could've stopped as well. Instead, she carried the Lady project herself, show to show, town to town. In the face of frustration and decisions beyond her control, Nicole stepped up and took charge. She knew that she could make this happen. The Lady project allowed Nicole to showcase her impeccably strong and unique voice as well as her succinct poetic prowess for song writing. She found herself renewed and in a realer place, a place where success and frustration honed her talent and drive. She wasn't just a singer anymore—she was tapping into something altogether different.

Fast forward to now–the transformation from singer-for-hire to pure artist is evident in this new full-length solo release, Queen Alone. Reunited with the top-class musicianship from the Lady project and with Big Crown's own Leon Michels and Daptone / Dunham's Tom Brenneck handling production, Nicole says she is "Singing out loud now–singing from the stomach." Back in 1998 she was coached how to sing. Today, after stutter-stepping in and out of the industry, there is a new soul and substance to her songs–all of it from her life.

Almost echoing her new record, Nicole says, "You have to go through something for it to be real." She has been living with one foot in fame and the other in real life. The result is clear: she's feeling something real in her music again. And it's hard for us as listeners not to follow suit.