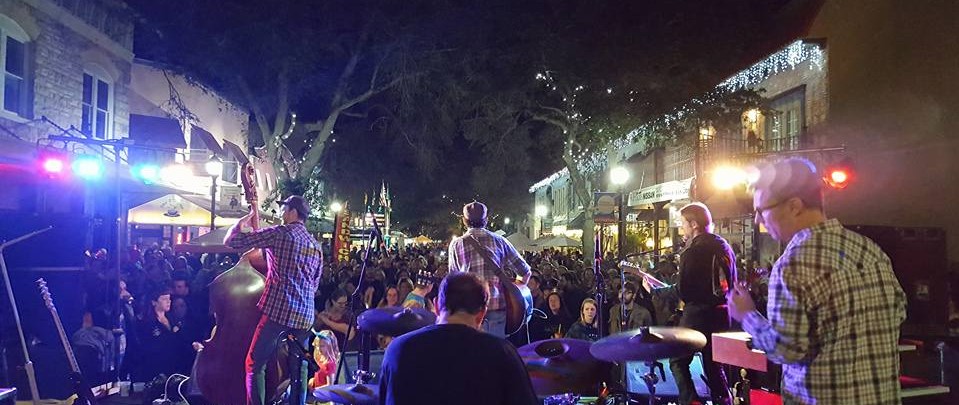 Florida's HAVE GUN, WILL TRAVEL have a natural instinct for combining folk, pop, rock and classic country influences to create a sound all their own. "Their music has a great energy to it with infectious, sing-along choruses and refrains" remarked NPR's Robin Hilton. American Songwriter called HGWT's music "organic, infectious Americana Pop. Their music has a refreshing immediacy to it."
HGWT's music has been featured in a national Chevy TV commercial, as well as the PBS series Roadtrip Nation, CBS's The Good Wife, and Travel Channel's Expedition Unknown. Their live performances have been described as rousing, rollicking, energetic and dynamic. Accompanied by the sweeping lap steel of guitarist Scott Anderson, singer-songwriter Matt Burke enthusiastically leads brother Danny Burke (bass) and JP Beaubien (drums) through a collection of songs that run the gamut from foot-stomping front-porch spirituals and evocative Texas swing to strum-punk rave-ups, hill-country historicals and more.
HAVE GUN, WILL TRAVEL's highly anticipated, fifth studio album Science from an Easy Chair was recently released on THIS IS AMERICAN MUSIC. This full-length concept album is based entirely on British explorer Sir Ernest Shackleton and his 1914-16 Imperial Trans-Antarctic Expedition. Produced by Shawn Kyle and recorded in Tampa, Science… delivers its own interpretation of this amazing story of survival and endurance. Along with HGWT's own distinctive instrumentation, the musical framework of the album is rife with luscious string arrangements, crooning horn sections, and rich percussion. The release commemorates the 100th anniversary of the epic journey.
Science from an Easy Chair is being called "a root-rock opus…HGWT's crowning masterpiece" (Bucket Full Of Nails), "easily HGWT's best" (Creative Loafing), and "a solid record from start to finish loaded with songs that will stand up over time" (No Depression). "Boasting full-bodied playing and production, Science is like an arresting book on tape, but one you'll want to listen to over and over." (Big Takeover)