2016 KIDS FEST LINEUP
Saturday, March 12
TBD – Channelside Bay Plaza Stage
Patel Jazz Quartet – Ferman Amphitheater
Sunday, March 13
Smallfish – Ferman Amphitheater
Andrew & Polly – Channelside Bay Plaza Stage
Saturday & Sunday – Kiley Gardens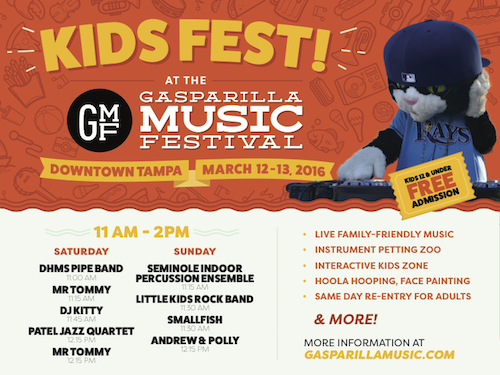 ABOUT KIDS FEST
Some of us at the Gasparilla Music Festival have kids, and we know how important it is to introduce our bundles of joy to quality music at an early age. It helps them ace math! We are also dedicated to making GMF a family-friendly event, and so each year we present our amazing GMF Kids Fest.
FREE for kids 12 and under, GMF Kids Fest is the perfect way to spend the day with your family. Then, when the tykes are all tuckered out, arrange a sitter so you can come back later and enjoy a more adult-oriented outing. Same day re-entry comes with your ticket.
Kids Fest takes place at GMF on both days of the Festival from 11am – 2pm featuring headline entertainment on three festival stages. There are a variety of musical acts to choose from, including the imaginative and playful duo, Andrew & Polly.
Between performances, check out the Instrument Petting Zoo and the Interactive Kids Zone. There will also be face painting, dance experiences, hula-hooping and more!
Hungry kids are no problem here! We have all the kid staples, including pizza, ice cream and donuts, and with 20 tasty vendors on hand, there's enough variety to please even the fussiest eaters.
More Details
Just bring a blanket and prepare to be entertained! You can also bring low-backed chairs for greater comfort. There are a few restrictions regarding what you can bring onto the festival grounds, so be sure to check our FAQ for details.
A drop-off area is located on the backside of the Tampa Museum of Art at Gasparilla Plaza, and convenient parking for families is available at the Poe Garage on the corner of Ashley Drive & Cass Street. For more information, check out Parking and Transportation page.