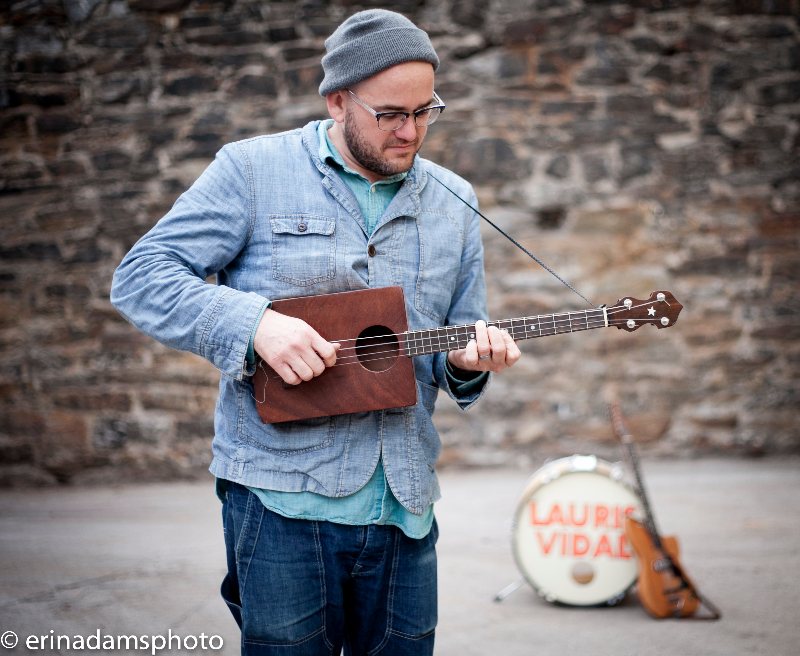 "Lauris Vidal creates innovative and unique folk music with dark undertones, but always carrying a message of hope. His lively performances include ukulele, tenor banjo, lap steel, guitar and sometimes even lap bass. Seeing Lauris Vidal is an experience all its own; we cannot tell you quite what to expect." – WMNF 88.5 FM Tampa
Lauris Vidal has always treated the neck of his guitars like the skate parks of central Florida, where he grew up. Lauris has navigated both instrument and skate session with an aggression and ease of stride that serves not to impress or intimidate, but to inspire and invigorate.
Lauris' lust for living is infectious, and from an early age he found that the best way to spread that infection was through his signature brand of "kitchen sink beat blues". If the ghosts of American soul and folk music are the wind in Lauris' sail, then the urgency and intelligence of Fugazi and The Bad Brains are his anchor. The cowboy boots with which he pummels the stage when keeping time have traveled from the swamps of rural Gainesville to the broken streets of D.C. and Baltimore. Each place Lauris goes and every relationship he forms adds a different spice to his narrative stew. He spent time as a volunteer mentor to kids in central Florida, and has braved the rigorous oppression of office life while honing his craft in our nation's capitol.
When not on stage Lauris spends time on the family farm, not tilling the land for crop, but scanning the ruins of fallen trees and old barns for material with which to forge everything from ukuleles to six-string lap steels.
Lauris Vidal isn't just a musician or show, he's a relational and aural experience described by punknews.org as "getting a hug from Tom Waits if you were bump to into him at a Paul Simon concert". His energy onstage and passion for existence in daily life has garnered praise by his friends, family, and fellow musicians.