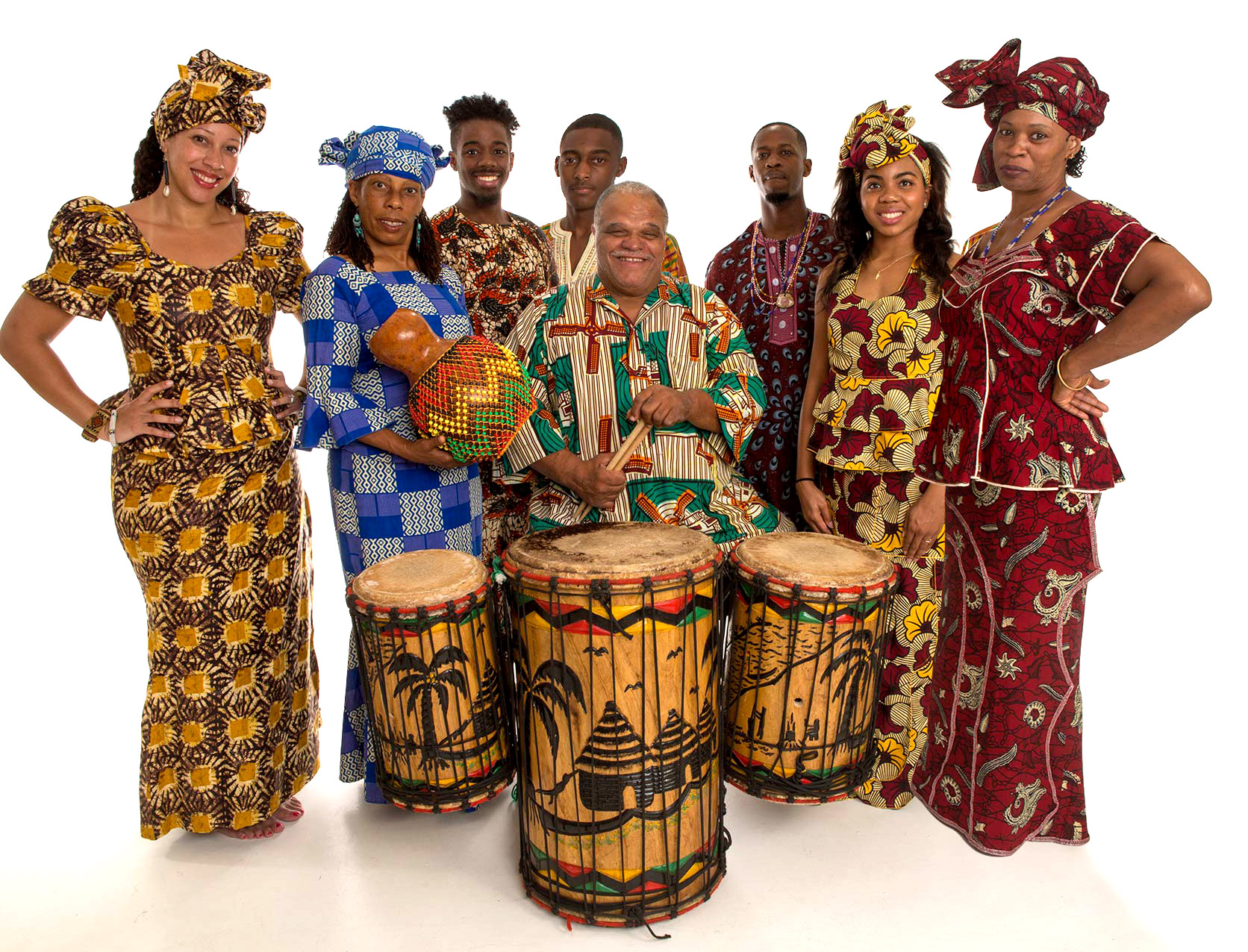 "If the spirit of traditional African culture lives and breathes in the Bay area, it most certainly is housed within the Kuumba Dancers and Drummers." –Tampa Tribune
Exotic, mesmerizing rhythms and joyous movement, born of the hands and feet of the Kuumba Dancers and Drummers, give life to traditional African culture. Kuumba performs dances from various regions in Africa and carries the entire constellation of that particular music, ceremony, art and history. The performances include singing, audience participation and storytelling as well, rounding out the experience with the added excitement of oral history.
Kuumba Dancers & Drummers, is a community based organization that offers classes and train their members ranging from young children and adults of all ages. Based in Tampa, Florida since 1980, Kuumba has provided numerous audiences with their insightful display of traditional African folkdance, music, songs and storytelling.
Presentations consist of extensive research with diverse artists and include dance and music traditions of the African diaspora. Kuumba Dancers and Drummers strive to present an authentic experience to their audiences while preserving and nurturing the art form for generations to come.
They have delighted audiences across the state of Florida and as far away as Canada, performing at schools, colleges, churches, libraries, theme parks, corporate events and festivals as well as opening for internationally known artists.
Opening Act for:
Ladysmith Black Mambazo
King Sunny Ade
Dick Gregory
Gil Scott-Heron
Chief Ebenezer Obey
Dr. Ben Carson
Kuumba Dancers and Drummers also offer dance and music workshops in their quest to enhance appreciation of this art form and to encourage artistic appreciation from every walk of life.
Kuumba Dancers and Drummers are dedicated to fostering and promoting the historical contribution of African culture.
Myron and Natalie Jackson…
have presented traditional dance, music and songs of Africa for over 3 decades and initially studied drum and dance at their respective alma mater's of Morehouse College and Hampton University.
Their extensive studies in music and choreography from master artists include Babatunde Olatunji, Cornelius Kweku Ganyo, Mabiba Baegne, Neri Torres, Malik Faye, Souleymane Diop, Kadijah Wilson, Malang Bayo, Djimo Kouyate, Reginald Yates and many others.
Myron and Natalie are recipients of the Florida Assoc. of Multicultural Education Trailblazer Award, Arts Recognition Award 1992 Arts Council of Hillsborough County, Tampa/Hillsborough Youth Council, Weekly Planet's Best of the Bay/Best Dance Company1996, and the Brotherhood/Sisterhood Award.