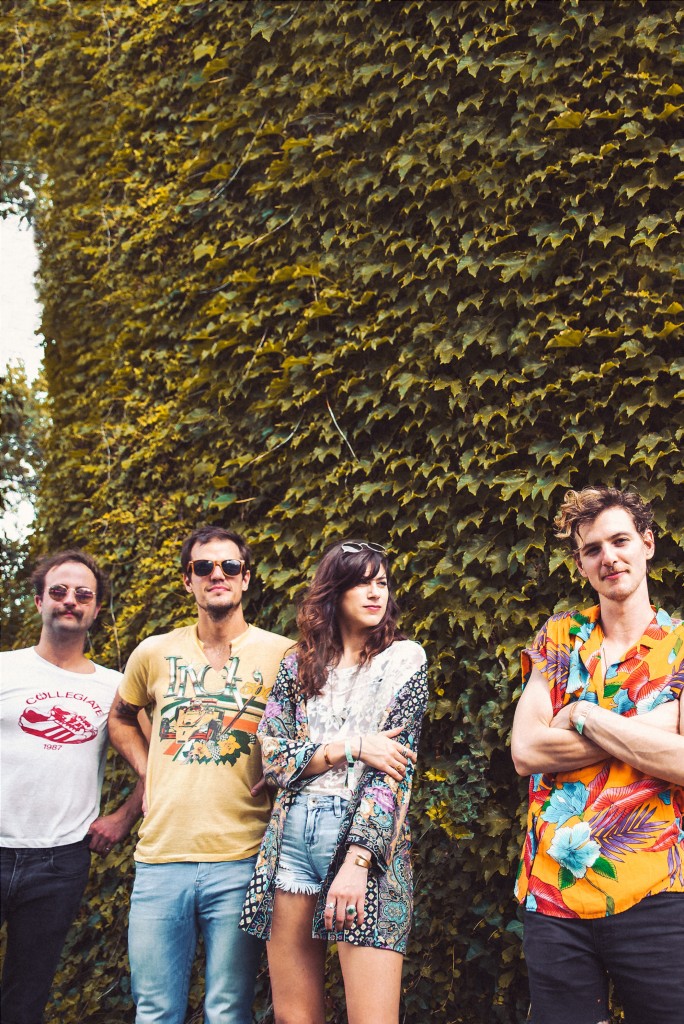 "They are all singers, leading with individual character and harmonizing in saloon-choir empathy. The music is earthy melancholy with a rude garage-rock streak."
– Rolling Stone

In the last four years, Houndmouth have learned what it means to be a band. On their second album, Little Neon Limelight, they wear that wisdom like a badge of honor.
Less than a half-decade ago in the small Indiana city of New Albany, four pals were crafting tunes on their own, with few ambitions of turning those songs into a spectacle. That all changed when these friends crossed paths, and joined forces. Matt Myers, Shane Cody, Katie Toupin, and Zak Appleby became the drums and keys, guitars and harmonies of Houndmouth, and those personal numbers became the irrepressible core of an outfit turned magnetic.
In 2012, the group issued a self-titled EP on Rough Trade Records, the legendary imprint that signed them after seeing a single gig. One of 2013's most incandescent debuts, their From the Hills Below the City LP affirmed what label owner Geoff Travis had heard: the sounds of Americana, renewed by the youthful glow of songwriters, musicians and pals unafraid to both celebrate and desecrate them.
Others noticed, too. The Guardian noted that, with From the Hills, "reservations fade," while Rolling Stone's David Fricke lauded the "earthy melancholy with a rude garage-rock streak." Treks with the Drive-by Truckers and the Alabama Shakes followed, plus performances at the Newport Folk Festival, Lollapalooza and Bonnaroo. In cramped clubs and big theaters alike, Houndmouth earned a reputation as a must-see act, their hooks, energy and charisma making them feel like a lifelong friend you'd just met.
That success, though, turned what had started as fun into something closer to work. Houndmouth learned that being full-time musicians required much more than the nine-to-five endeavors they had left behind in Indiana. But they grew into the role and grew from it. Experiences accumulated; perspectives expanded. Relationships stalled; others progressed.
"We're not in party mode all the time anymore," says Myers. "We're refining how we write songs, writing about people we love, more important things than just nonsensical stuff." If that was the charge, then Little Neon Limelight is an unapologetic success. These eleven songs sparkle, fade, and sparkle again, mixing innocence and experience, acceptance and aspiration, horror and hope.
Recorded by Dave Cobb in Nashville, Little Neon Limelight pairs the energy and nerves of raw first takes with the accents and moods of a more contemplative, thoughtful unit. Hearts are broken and friends are exiled, love grows cold and drugs do damage, leaders make mistakes and money turns tricks. On the acoustic "Gasoline," one of the most poignant moments of Houndmouth's catalog, Toupin barbs the confessions of a perennial party girl with the specter of mortality. "Maybe I'll meet my maker on a bedroom floor," she sings, her voice fighting against its own existential fade as bowed cello traces her words. Haunted by samples of the buoyant opener and single "Sedona" and the noisy filigree of a Moog, the beautifully downcast "For No One" stalks through personal blues with conviction. Its world-weariness has been incubated by the world it surveys.
But all of these feelings aren't worn on Houndmouth's collective sleeves: Despite the turmoil embedded within many of these songs, they are equal parts energetic proclamation, built with choruses that can't be denied, harmonies that can't be escaped and rhythms that can't be resisted. With its carousel keyboards and start-and-stop drums, "Say I"" is a combination come-on and kiss-off that might make Keith Richards blush. For "15 Years," Houndmouth conjures barroom bluster to voice the woes of a prisoner, backing the cries of his soul with howling organ and slashing guitar. When all the action drops into a shout-along, gospel-strong bridge, you might feel the urge to bust the fella out yourself. What's the point of having the blues, Houndmouth seems to say, if you can't have fun with them, too?
Nowhere is that balance of tragedy and triumph better than on the romp "My Cousin Greg," a Band-style saga where each member takes a turn with a verse. Written about Myers' actual cousin and former cover-band bandmate Greg, these four minutes present the title guy as a mischievous, enlightened and acerbic genius. He leaves Florida with his master's degree in physics for a brainy job in Los Angeles, raising metaphysical hell and questions along the way. Greg thinks his cousin has it made, touring the country by van while playing the songs he's written.
But Myers disagrees: "If you wanna live the good life/Well, you better stay away from the limelight," the quartet sings as one in the chorus, repeating the mantra as though it were their only lifeline to sanity. For those long drives, it's a reminder of the thrill and toil of what they now get to do. "For the first record, we were floating around after having been thrown into this," explains Myers. "This time, we were able to write more about experiences than random stories, because that's where we are in life. There had to be an attachment to what we recorded."
For Little Neon Limelight, the charged, charming and preternaturally mature Houndmouth did exactly that.
– Grayson Haver Currin