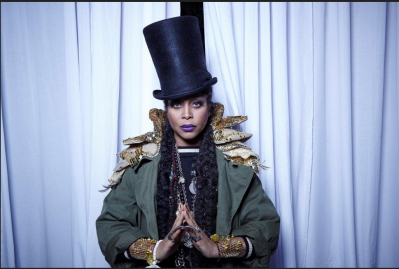 Erykah Badu was born on February 26, 1971 to William and Kollen Wright in Dallas, Texas. They named her Erica Abi Wright and she was the first of their three children. She inherited a taste for music from her mother who introduced her to multiple genres of music (Joni Mitchell, Parliament-Funkadelic, Pink Floyd, Phoebe Snow, Chaka Khan). At the tender age of four, Badu began singing and dancing in productions at the local Dallas Theatre Centre. It wasn't until her acting debut in the Martin Luther King Jr. Recreational Center's musical production of "Really Rosie," directed by her godmother Gwen Hargrove, that Badu realized she was a natural performer. "I played Alligator," Badu says, "and at 6 years old, I got my first standing ovation. I knew I wanted to bring people to their feet from that point on."

Badu stayed true to her artistic leanings and enrolled at Booker T. Washington High School for the Performing Arts in the late '80s. Tomboyish and a bit of a class clown, Badu devoted most of her time to perfecting her dance form, studying the techniques of Martha Graham and Katherine Dunham, as well as practicing ballet, tap, and modern dance. Badu also sharpened her Hip-Hop skills, freestyling on the Dallas radio station 90.9 FM KNON under the name Apples the Alchemist until she eventually changed the spelling of her name from "Erica Wright" to "Erykah Badu," "kah" being Kemetic (Egyptian) for a human's vital energy or "inner-self" and "ba-du" after her favorite jazz scat-sound. But later, Badu would discover that her chosen name holds a far deeper meaning.In 1989, her senior year of high school, she decided to dedicate her life to a path of holistic wellness and became a vegetarian.

Badu enrolled at Grambling State University, where she majored in theater and minored in Quantum Physics. She left in 1993 to pursue music full-time. During the day, she taught drama and dance at the South Dallas Cultural Center and worked as a coffeehouse waitress. At night, she recorded and performed songs like "Appletree," produced by her cousin Robert "Free" Bradford. In 1994, her 19-song demo caught the attention of aspiring record executive Kedar Massenburg by way of the SXSW music festival. Massenburg signed her to his upstart label Kedar Entertainment. The company eventually merged with Motown/Universal and Badu started opening for D'Angelo, prepping the world for the massive Neo soul movement to come.

The New York Times described Badu's groundbreaking debut, 1997's Baduizm, as "traditional soul vocals, staccato hip-hop rhythms and laid-back jazzy grooves." Yet, hindsight reveals that Badu's debut was more than just an album, it was the introduction of a new lifestyle. The music evoked speakeasies, incense, head wraps, and boho coffee shop culture all in one easy breath. Propelled by the lead single "On & On," the album went multi-platinum, winning her two Grammys for Best Female R&B Vocal Performance and Best R&B Album. Badu topped Rolling Stone's Reader's poll for Best R&B Artist, and Entertainment Weekly named her Best New Female Singer of 1997.
In 2003, she founded her non-profit group, B.L.I.N.D. (Beautiful Love Incorporated Non-Profit Development), which is geared toward creating social change through economic, artistic, and cultural development. Among B.L.I.N.D.'s many accomplishments, the organization has provided arts, crafts, and dance classes to children displaced by Hurricane Katrina. Also in 2004, Badu's charitable efforts helped raise hundreds of thousands of dollars to support the scholarship fund at St. Phillips School and Community Center in Dallas, Texas.

Badu continues to use her platform as an alter. By incorporating instruments such as tuning forks, crystal singing bowls, and gem stones and more into her music, she has created a wave of healing energy throughout the planet. But her true instrument is the 'intent' with which she sings. She has become a spiritual midwife, aiding in the rebirth of moral and spiritual consciousness for her generation. Badu's artistic and spiritual contributions to humanity earned her an honorary Doctorate degree in Humanities from Paul Quinn College in 2000.

Erykah Badu's three children, son Seven Sirius (b. 1997) and daughters Puma (b. 2004) and Mars Merkaba (b. 2009), were all born at home with a practicing midwife. She is an advocate of natural childbirth, healthy birth outcomes and breastfeeding for robust infant development. Recently, she was the keynote speaker at the International Center for Traditional Childbearing (ICTC) 7th International Black Midwives and Healers Conference in October 2010.

Erykah currently studies and apprentices to masters Queen Afua, holistic health guru and spiritual teacher. Dr. Jewel Pookrum , neurosurgeon, physicist and midwife and Dr. Laila Africa, scientist, health practitioner and theorist. In 2006 Erykah was certified as a Holistic Health practitioner thru Dr. Laila Africa and she is also a 3rd Degree Reiki Master-Teacher. Badu hasn't stopped yet; she continues to study sound and vibration healing and presently assists and apprentices as a direct entry midwife. Erykah has served as doula for five natural births and only has 31 left to becoming a full fledge midwife.

Erykah currently makes her home in Dallas, Texas. Self described as a "mother first", Badu is a touring artist, DJ, teacher, community activist, 25 yrs vegetarian, recycler, and conscious spirit.