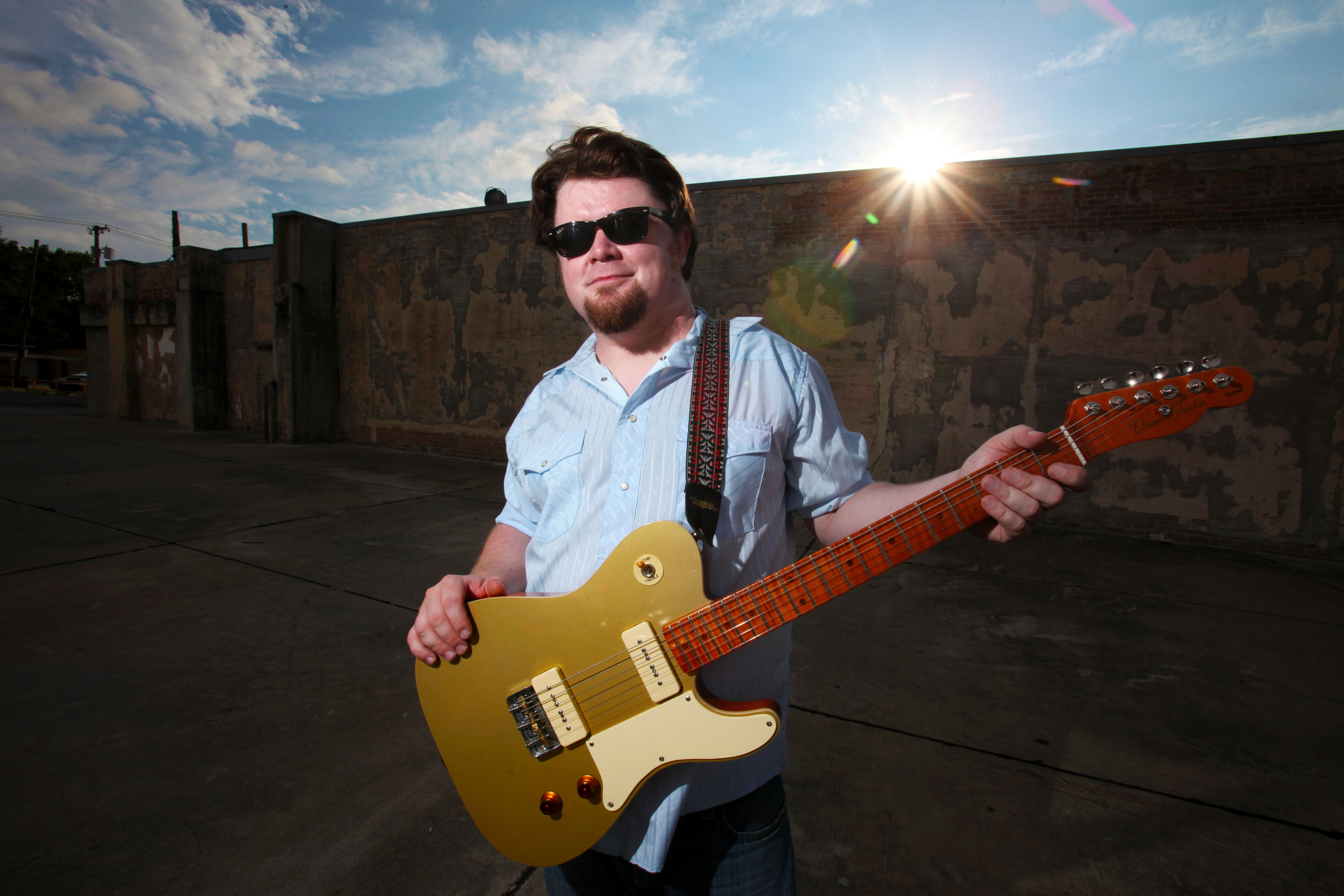 After spending much of the past year touring with the band Southern Hospitality, Damon Fowler is back with his third solo project for Blind Pig Records, Sounds of Home. Damon chose swamp blues master Tab Benoit to produce and record him at Tab's rural Louisiana home studio, and their collaboration has resulted in Damon's strongest effort to date. The tension between his measured, laid-back vocal delivery and the hallmark intensity of his guitar virtuosity has never been keener, and the stories told in his songwriting here – sometimes in collaboration with long-time writing partner Ed Wright and Benoit – exhibit a combination of depth, grace and humor very few of his contemporaries can match.
Damon sets the standard for what is to come on the first track, "Thought I Had It All." It's an  introspective, brooding tale shot through with razor sharp, frenetic guitar leads. Other songs like the title cut and "Where I Belong" flow in an easy Southern groove.  Damon offers up two covers, peppering Johnny Winter's "TV Mama" with slithering slide guitar runs, and doing a great version of Elvis Costello's "Alison." The country tinged "Old Fools, Bar Stools, And Me" offers a poignant take on a familiar theme. "Do It for The Love" is a sweetly contemplative ballad featuring the lyrical counterpoint of Damon's lead guitar and Tab's pedal steel. The album closes with an inspired, finger-picked rendition of the traditional gospel song, "I Shall Not Be Moved."  As with Damon's legendary live performances, Sounds of Home takes the listener on a tour through the rich traditions of American roots music, presented by one of its foremost practitioners.
Alongside his solo career, Damon joined forces with fellow guitarist JP Soars and keyboardist Victor Wainwright in 2011 to form the southern roots rock group, Southern Hospitality. SoHo quickly became a strong draw on the national circuit due to their early, roof-raising live performances and their first recording, Easy Livin', on Blind Pig. Of their first show BluesWax said, "Southern Hospitality, after a single gig, has significant players in the blues world taking notice. Fowler, Wainwright and Soars share much love for the songs of the South. The hot jazz and funk of New Orleans, classic country, gospel, soul, and blues that became rock 'n' roll in Memphis and went global by way of a trucker named Elvis." Hittin' The Note called the album "a dozen potent shots of pure Southern pleasure. The roughneck, laid-back ways of this fine debut are reminiscent of the best days of Southern rock." Damon has neatly managed to balance his participation in SoHo with his own, well-established solo endeavors.
On the strength of his hybrid of roots rock, blues, and sacred steel, the Florida native started wowing audiences with his musical exploits as a teenager, building a reputation as one of the hottest young players on the scene. Adding songwriting and vocal skills to his repertoire over the years has brought him many accolades, with critics extolling his originality and maturity as well as his technical guitar expertise. In 2008's  "Best of Tampa" poll, Creative Loafing magazine named him "Best Guitarist… And Slide Guitarist… and Lap Steel Player… And Dobro Player." Fowler's guitar work has been compared to Johnny Winter and Jeff Beck, while his slide guitar has a hint of the late Duane Allman. He can play fiery guitar runs with the best of them, but it's his lyrical work on lap steel and Dobro that makes him stand out among the legions of guitar heroes.
Damon's Blind Pig debut, 2009's Sugar Shack, showcased a fresh and exciting rising star coming into his own as a performer and writer. Damon's sparkling original compositions paired perfectly with well-chosen cover tunes from Billy Joe Shaver, Merle Haggard, and the Amazing Rhythm Aces. The critical reaction to its release was unanimously laudatory. The Chicago Sun Times proclaimed, "Make way for the next big-time guitar slinger, wire-walking Tampa, Fla., native Damon Fowler. This kid can play, garnering big raves for his power trio's live shows. Even better, he shows no need to kill you with pyrotechnics on his major-label debut."Hittin' The Note said, "With this album, Damon Fowler is really just starting to open up shop, and I suspect he'll be open for business for a long time to come," while Billboard noted, "He's a formidable slide guitar player, and has also mastered lap steel and dobro as well as electric guitar; his playing throughout the album is deft. Indeed, Fowler may be so skillful that he prefers pickin' tasty to larger-than-life guitar heroics."
In 2011, Blind Pig released Devil Got His Way, which went a long way toward fulfilling the tremendous potential that his acclaimed debut promised. His remarkable songwriting skills and vocal expressiveness were maturing, and his instrumental voice, by turns incendiary and deeply lyrical, got even stronger. The styles and moods of the songs on Devil Got His Way ran the gamut. The sharp title cut told a sordid tale, punctuated by furious slide guitar runs. "After The Rain" was a beautiful, meditative ballad. "Tight Rope" recalled the playful tone of Leon Russell's version, without sounding derivative. From the swampy nighttime heat of "Cypress In The Pines" to the wistful, R&B feel of "You Go Your Way" to the ironically rock anthemic "American Dream," Damon showed the uncanny ability to make all the flavors of American rock'n'roll uniquely his own. Like its predecessor, Damon's second Blind Pig release garnered high praise from reviewers everywhere. As Living Blues put it, "Devil Got His Way is full of lyrically rich, confident songwriting and  shimmering Americana-laced guitar. Fowler is as expressive a songwriter as he is a singer and instrumentalist. He's preaching an otherworldly, Americana-themed gospel from a six-stringed pulpit. He is a roots guitar guru in the making."
Damon Fowler's star is on the rise. As Wade Tatangelo put it in a feature piece in March, 2013, in the Sarasota Herald-Tribune, "Damon Fowler's big, dimple grin cuts through the darkness as he stands outside the historic cottage he calls home in Bradenton Beach. It's the same endearing smile he's flashed on stages across the country and, in recent years, abroad, for nearly two decades. But these days, his smile shines just a bit brighter. In the past year Fowler has married, become a father and witnessed his music career reach new heights thanks to the formation of the super group Southern Hospitality."
And to this list of accomplishments we can now add the release of a superb new recording, Sounds of Home.