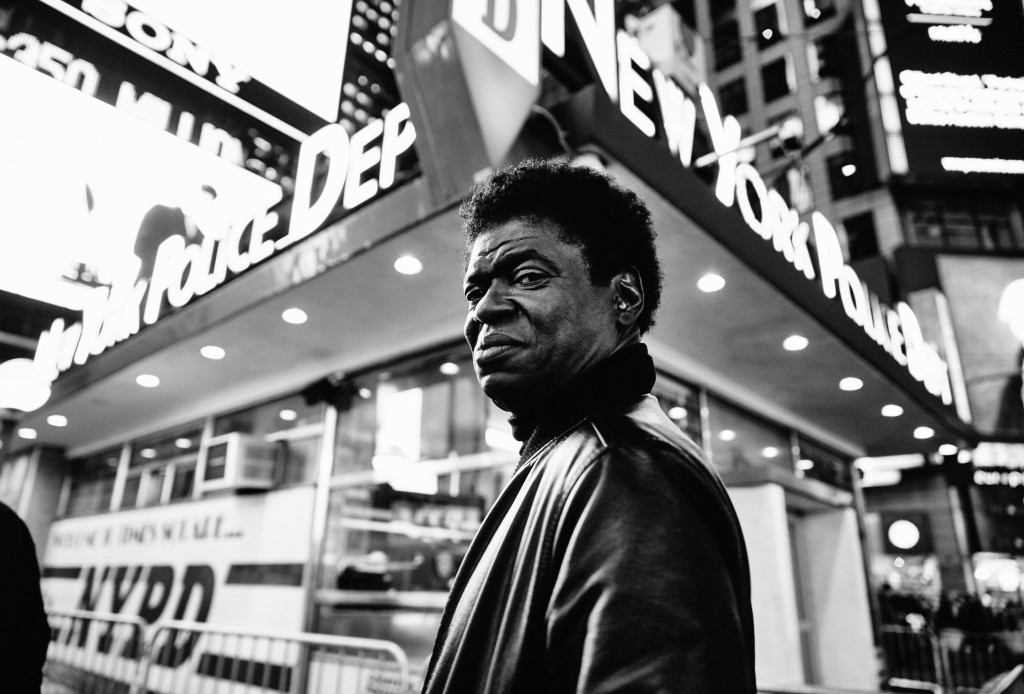 "Every brass blast and chicken scratch could have come straight off a 1968 Stax Records release, but it's Bradley's ragged, resilient powerhouse singing that makes this soul…" – Rolling Stone, Best Albums of 2011
The remarkable against-all-odds rise of Charles Bradley since the release of his 2011 debut album No Time For Dreaming has been well documented. He transcended a bleak life on the streets and struggled through a series of ill-fitting jobs before finally being discovered by Daptone's Gabriel Roth. The year following the release of No Time For Dreaming was one triumph after another including a breakthrough performance at SXSW, several television performances and having the album named to many year end "best of" lists. The soul singer's ascent continued with the 2013 release of his triumphant second album Victim of Love, which saw Bradley emerging from his past heartaches stronger and more confident, overflowing with love to share.
The Brooklyn-based 67-year old is now set to release his third album Changes on Dunham Records, the imprint on "House of Soul" Daptone Records. Rolling Stone named Changes one of the "Most Anticipated Albums of 2016," stating "The ageless, limitless 'Screaming Eagle of Soul' swoops back with Changes, an album named after Charles Bradley's affected rework of Black Sabbath's 1972 piano ballad." Of that "smoldering" (SPIN) cover, Bradley notes, "I think about the lyrics very closely when I sing 'Changes' and get emotional. It makes me think of my mother and the changes in my life since she passed away."
Bradley was close to his mother, as seen in the 2012 documentary Charles Bradley: Soul of America. The pair reconnected in the mid-90s after a tumultuous relationship throughout his early life, and he spent most of the last two decades as her primary caretaker. She passed away in January 2014, the same night Charles was set to perform to a sold out hometown audience at Brooklyn's Music Hall of Williamsburg. Not one to disappoint his fans, he went on to perform that night and dedicated his emotional performance to her, and now also dedicates Changes to her.
The 11-track album kicks off with a spoken word intro from Bradley that leads into an impassioned version of "God Bless America" and, nodding to his rigorous international touring schedule, new track "Good To Be Back Home." Changes also features a number of songs that Bradley has been performing live including "Ain't It A Sin," a track that SPIN says "cuts loose with the wicked abandon its title implies… The Screaming Eagle of Soul roars with hair-raising ferocity." And here, even more than on his previous records, he calls on the power of love throughout several songs including the breezy "Things We Do For Love," ballad "Crazy For Your Love" and the slow burning album closer "Slow Love."
Bradley's longtime producer and co-songwriter Thomas Brenneck returns to the fold though the album does see some changes from previous albums. Where the first two albums were recorded with Dunham Records' house band Menahan Street Band, Changes sees Bradley collaborate and perform with musicians from across the Daptone universe including members of MSB, Budos Band, the Dap-Kings, and Charles' touring band The Extraordinaires, and a number of prominently featured background vocalists (Sha La Das, Gospel Queens, Saun & Starr). The result, in songs like "Change For The World" and "Ain't Gonna Give It Up," is Bradley's most contemporary sounding album to date.
In the last half decade, Bradley has become known for his emotional and riveting live show and was named #1 on Paste Magazine's "Best Live Acts of 2015" list. He's taken his show to venues and festivals across the globe including Coachella, Glastonbury and Primavera Sound. Bradley's also performed on many famed stages including NYC's Beacon Theatre and the Apollo Theater—the same place his sister took him to see his idol James Brown perform when he was just 14 years old.
With Changes, funk & soul powerhouse Charles Bradley brings music fans of all ages another unforgettable set of songs and will continue to bring his live show to stages around the world. Look for the album in stores April 1, 2016 via Dunham Records / Daptone Records.