Selecta Chang
(selektachang.com | www.redbullmusicacademy.com)
"I am trying to make people more aware of the power of music, especially the kind that makes you move. Maybe some can take that experience on the dancefloor to see that we can work together as a race, if we just drop our differing ideas for a moment to see what is really there. Music is one of the best ways to do this to the human mind." ~ Selekta Chang
Selekta Chang's roots lie in his Cuban family being exposed at an early age to his parents collection of disco, soul, rock, salsa, and funk records. His first musical instrument was the drums where he performed percussion in a symphonic classical band while in Jr. High. This eventually led to his interest in djing while one day watching "The Buffalo Gals" music video on MTV. It was the scratching sound he heard that lead to his curiosity on what it meant to mix records. Around that time in Miami his cousin was a disco dj, and it was his music that motivated Chang even more to pursue the art of the mixtape.
What Chang is best known for though is his residency at Simons! There he played with djs like Laurent Garnier, Felix Da Housecat, Deep Dish, Green Velvet, Richie Hawtin, John Aquaviva, Mark Farina, John Digweed, Danny Tenaglia, DJ Pierre, Dubtribe, Doc Martin..
Never constituting to one sound expect elements of disco, soul, afro-funk, electro, house, techno, hip hop, to indie rock in his sets. Expressing such diverse sounds that it excites & entices his fans with the unknown & unexpected.
His dj travels have surpassed the borders of the USA to Formula One in Bahrain, FM4 Radio in Vienna, Beach Party in Beirut, SQ Club & Piekarnia in Poland, Treasure Beach Jamaica, Download Festival in Slovakia, to the legendary Cocoon Club in Frankfurt, Germany.
Charity is where his heart is like his involvement with Project Ahimsa, a charity that spreads musical instruments to underprivileged youth around the globe. Currently he is 2012's Mr. X for The Red Bull Music Academy in West Florida, and a co-founder of the Street Music Workshop at The Moses House in Sulphur Springs, Fl.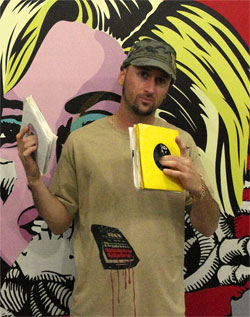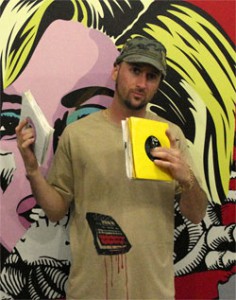 Blenda
(Gwan Massive | On Soundcloud)
Mike Blenda, 1973, funk reigned supreme. It still does. Future nostalgic ras vibe deliveries spanning roughly 25 years. I rock any party with the fresh commandments. I'm an all around music lover but specialize in dancehall, roots, classic & indy hip-hop, soul, downtempo, afro/world beat, hardcore & future nostalgic good vibes. Often told I'm a DJ's dj. Taking the old to the new in a flawless fashion. Vinyl specialist, digital as well, but always rock tables. Just can't deal with the cdj. Already a drummer/breakdancer bboy from early childhood DJ'n came naturally. From 1985 to mid 90's I was submerged in hip-hop reggae & punk/hardcore culture. In mid 90's I started DJ'n for Aiyb Dieng w/Afro Makossa which was a turning point as he was Bill Laswells main percussionist and had played percussion for Herbie Hancock, Public Image Limited, Rolling Stones,Fela kuti and was featured on the Afrika Bambaatta/Johnny Lydon single World Destruction which was one of the toughest rock/hip-hop/world fusion tunes to date. This was historical for me. During practice & shows insane musicians would come through & this raised the bar mentally for me. It brought a new conciousness to me as to music and its power as a communication. From this I began playing percussion myself then joined roots reggae band Tribal Style. Keeping the original hip-hop elements alive I also began DJ'n for hip-hop trio The Rukus. I ran a very successful community radio show for 5 years in tampa Bay. Between DJ'n & playing with Tribal Style I've shared stages with most of the artists/dj's that I look up to & am extremely thankful to have accomplished that. Currently active in clubs, lounges, multi-media shows & festivals, art openings, corners, college & community radio, b-boy events and anything in between local & abroad. Still playing out way more than I would have ever expected. The music here is either blends/mixes I just did live off the decks or music the band wrote that I played on. Put the musical ear in gear and give a listen. peace.