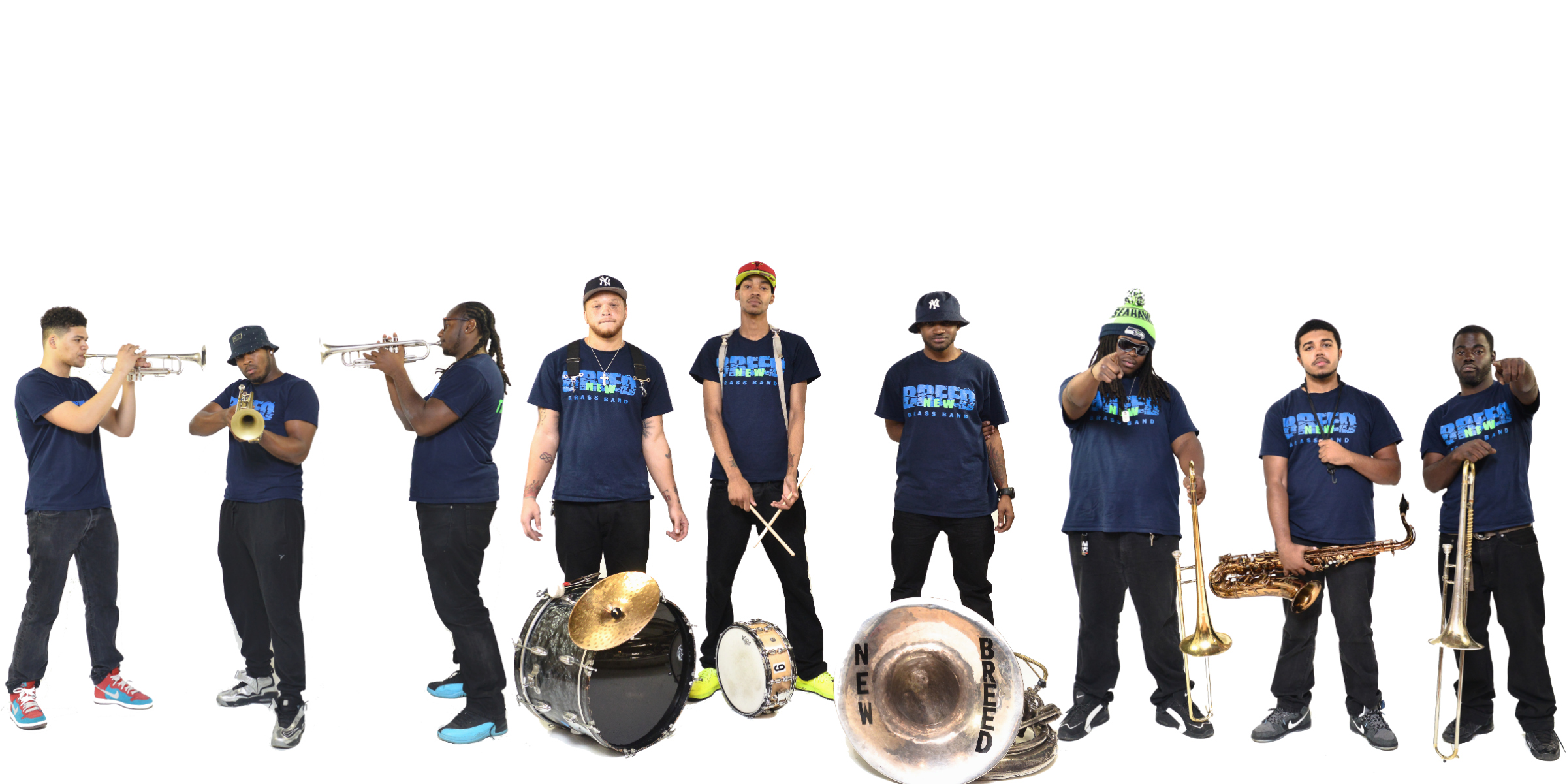 "These kids take the music and the ethos seriously.  They get it.  The way I see it, the future of the New Orleans brass band tradition is in their hands.  I really believe that" – Troy "Trombone Shorty" Andrews
New Breed Brass Band lives and breathes the culture of New Orleans, infusing funk, rock, jazz, and hip-hop into a custom-made enhancement of second-line brass band tradition.
"That's what we came up under," says snare-drummer Jenard Andrews of second line bands like the ReBirth, Dirty Dozen and Lil' Rascals Brass Bands. "Now we're trying to take that sound and bring in some new stuff and expand it.  We bring outside influences like Earth Wind & Fire and Brass Construction, trying to interpret a different song for every genre, and make it all our own sound."
With a founding core of five New Orleans natives, New Breed Brass Band made its street debut as a nine-man unit in November 2013 at the Nine Times Second Line.  Since then, they have showcased their originality opening for such diverse bands as The Fray, Red Baraat, Dr. John, The Waterboys, and Trombone Shorty & Orleans Avenue, as well as competing in the Red Bull Street Kings brass band competition in 2013.
Most of the members have been playing music since they were toddlers and count such New Orleans legends as James "12" Andrews, Troy "Trombone Shorty" Andrews, Topsy Chapman, Karl Leblanc, and Bruce "Sun-pie" Barnes as family members.  Honing their childhood experiences playing music with their families, and on through high school marching bands and concert ensembles, the nine members of New Breed are united to one cause: rocking each show and entertaining audiences to the maximum degree possible.  The band's strong desire is to be the next heavyweight contender among internationally-known New Orleans brass bands.
Whether performing in their hometown or on the road, New Breed will forever bring the vibe of the New Orleans second-line with them.   "We can't wait," Andrews says of bringing the New Breed sound to stages and festivals around the world.  "It's a new breed of music that we'll be bringing to our culture, and we hope to create a new sound for our city in the process."