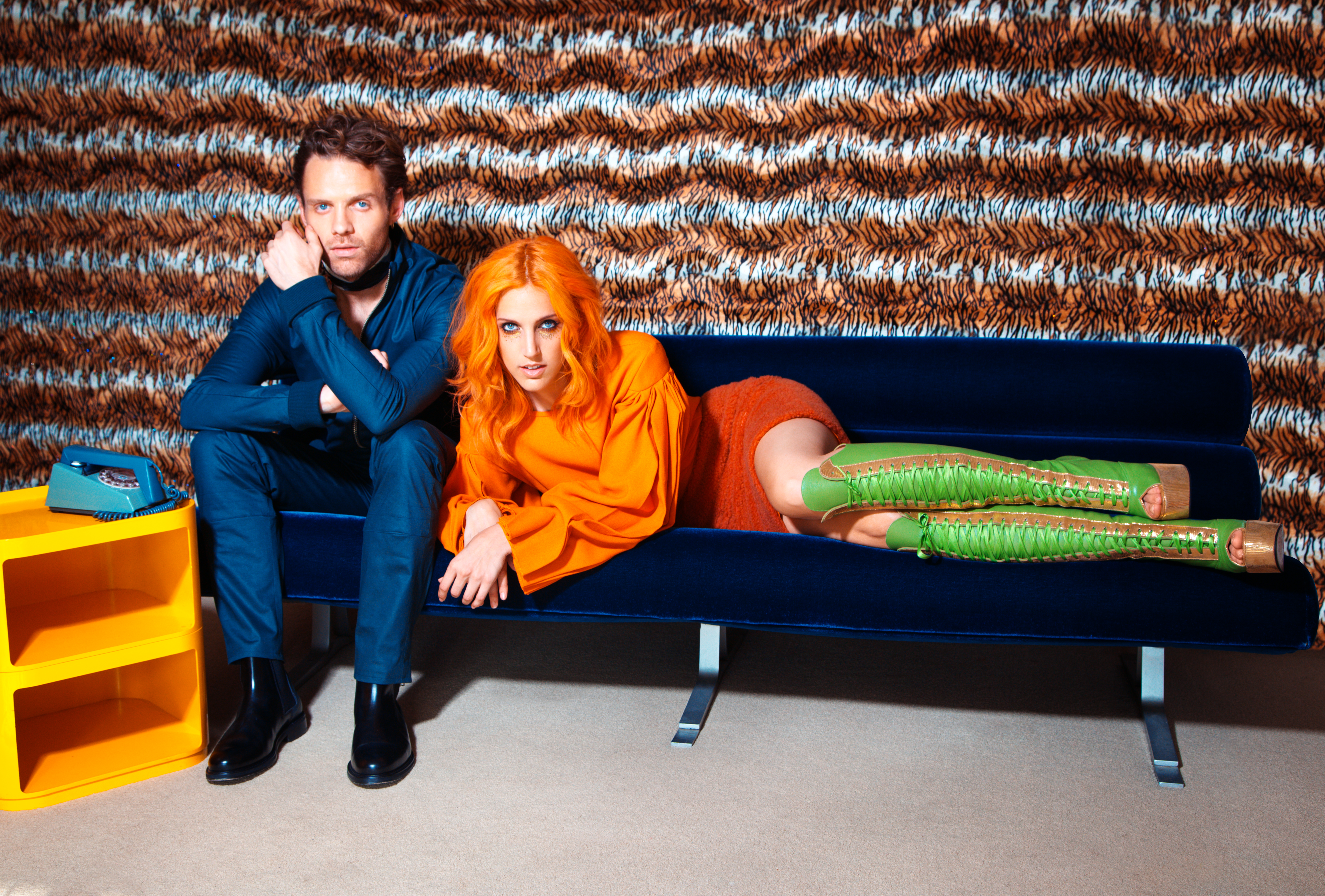 "Bubbling, layered, electric guitartinged pop." – Entertainment Weekly
In 2014, Lizzy Plapinger and Max Hershenow came back to New York City to start work on their sophomore album as MS MR. Only three years had passed since the first time they'd met up in secret, former college classmates with day jobs, spinning musical fragments into private worlds in front of Max's laptop in Brooklyn. They made their name on their early songs "Bones" and "Hurricane," and since then, Lizzy and Max have amassed 30 million album streams, played festival main stages, become known and celebrated as an alt-pop duo with a wide magnetism, a contagious exuberance and a distinctly technicolor style. Far from the days when they would release their music anonymously on Tumblr, they came back to New York altered and focused—better lyricists, vocalists, producers and performers. They were after the complicated alchemy of subversion and directness that they saw defining the modern pop act; they were no longer aiming for serendipity but for control.
And yet, for all the exhilaration the past two years had brought them, the duo was dizzied, too. They had a thousand ideas and one album to make, and to do so, MS MR found themselves seeking out the feel of those early, nameless days—the visceral, bare-bones intimacy that had been their music's genesis. Secondhand Rapture, the music they'd played in front of crowds tens of thousands deep–the album that they'd finished at the legendary Electric Lady Studios—had been recorded, after all, for $500 in spare rooms in Brooklyn. As they started to hammer out the ideas that would eventually result in the ecstatic, high-octane How Does It Feel, it wasn't glamour but a certain DIY gravity that set their compass straight. Lizzy and Max rented a room in Bushwick and brought in MS MR's drummer Zach Nicita to co-produce. For three months, they worked the way they had in the beginning: all day, all night, no engineers, no outside people, no special equipment. Just like he had in the beginning, Max strung up Lizzy's makeshift vocal booth by thumbtacking heavy blankets to the walls.
When you make music like this, everything becomes exposed and apparent; MS MR's intentions were clear, and the heart of How Does It Feel mirrors them. It's a simultaneous re-grounding and a conscious, triumphant evolution. Like both the Candy Bar Creep Show EP and their full-length debut Secondhand Rapture, this album is dark, epic, synesthetic alt-pop, laced with sugary hooks and bitter colloquial lyricism. And at the same time, How Does It Feel comes in bright, sharp, big and new. The propulsive bass and drum rhythms that drive MS MR's live show are heady and forceful in these tracks. Max's production, as hypnotic as ever, has an amplified certainty about it; the album's backdrop is a kaleidoscope of brassy synth and percussive horns, electronic and organic textures all dressed up and disguised. Lizzy's vocals, still warmly intimate, are marked by a new sense of presence, height and command.
This sonic directness makes How Does It Feel the rare second album that feels more personal than the first. The sound of the record puts Max and Lizzy up front, magnifying their disparate, complementary backgrounds, bringing them out of the surreal, shadowy atmosphere of their early releases. In the dynamism in the album's melodies you can hear the way that Lizzy, born and raised in the UK, still has the midnight energy of the London indie pop scene in her veins; there's a plurality and energy to her vocal lines that invokes her work developing other artists as the co-founder of the boutique pop label Neon Gold. There's a sense of brazen forward movement and physicality that suffuses every song, telling of Max's adolescence in Latin America, of the band he started at Vassar, of his time as a choreographer and dance student at Martha Graham Dance Company.
The story of MS MR is the story of two people's instincts meeting at a transportive place. Lizzy and Max both think of making music as creating universes, every song something self-contained and new. They balance the scale of this aspiration with their remarkably direct songwriting, and How Does It Feel shows MS MR in a place of simultaneous tenacity and abandon, the place where you have to be to make a second world: it's the animus of the album, uniting it through a deliberately wide array of tones, thoughts, tempos, textures. The album begins at a sprint, with Lizzy opening "Painted" in a chant, a meditation, a teasing curse: her repeated "What did you think would happen" carries through the track as the song builds to a catharsis, catches fire. The same story of tumultuous creation continues in the cheeky, deliciously controlled, Timbaland-inflected "No Guilt In Pleasure," as Lizzy sings, "No one on the outside has heard from me in weeks/ Wrapped up in the chaos/ Come too far to recede," before releasing herself to the chorus, with its final line: "Who are we to stay away?"
There are moments of hard-won intimacy, too—like the raw, bittersweet ballad "Wrong Victory," whose cathartic chorus is both storm and rainbow. And that's what How Does It Feel feels like: something magical created in the middle of a maelstrom, a light burning a path through. In many ways, it's simply an album about MS MR's creative process: two friends bringing two years of sudden fame back to a spare room in Brooklyn; turning noise into narrative, turmoil into deliberation. The title track provides an end of sorts to the story, a promise in the song's urgent refrain: "I won't let you down," over and over and over.