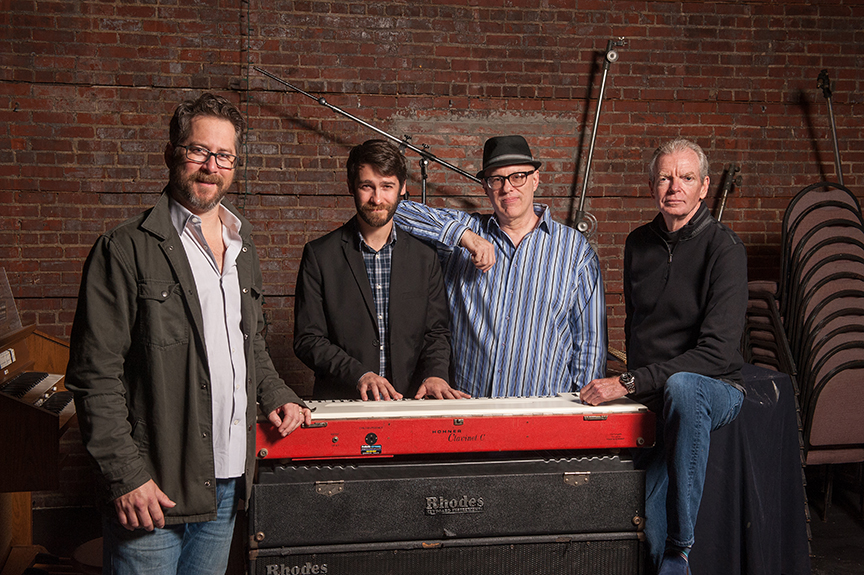 "I've seen these guys in different settings, from purely straight ahead to all-out funk, but I simply wasn't prepared for a disc this superb, start to finish" – Scott Hopkins, MusicFestNews.com
Jazz, blues, funk, fusion and New Orleans grooves meet in the music of Acme Jazz Garage. The band, heard at the Gasparilla Music Festival, Clearwater Jazz Holiday, and the WMNF Tropical Heatwave, among other major festivals and events, features a quartet of well-known Tampa Bay area musicians — guitarist Matt Swenson, keyboardist Bryan Lewis, bassist Philip Booth and drummer Tim Diehl.
Acme Jazz Garage in 2016 is releasing its first full-length recording of original music, an eclectic collection of combustible tracks on the Solar Grooves label. The CD is an all-star effort with the band joined by conga master Gumbi Ortiz (Al Di Meola, Los Hombres Calientes), Tampa/NYC singer Whitney James, NYC saxophonist Jeremy Powell (Arturo O' Farrill Afro Latin Jazz Orchestra) and veteran players Rick Runion and Austin Vickrey on saxophones, trumpeter Ron Wilder, and vibraphonist Sam Koppelman. Acme Jazz Garage was recorded and mixed by John Stephan at the historic Springs Theatre Studio in Seminole Heights and mastered by Ruairi O'Flaherty in L.A.
Acme's recordings have aired on WMNF, 88.5 FM and WUSF 89.7 FM. The band plays every Thursday and Friday at Timpano in Tampa's Hyde Park district, and also regularly takes its music to receptive audiences at Ella's, The Independent, The Ale & the Witch, and Dunedin Brewery. The band additionally has played the Gasparilla Festival of the Arts, Tampa Heights Music Festival, Friday Extra Concert Series, Tampa Museum of Art, Skipper's Smokehouse, New World Brewery, Saturday Morning Market in St. Petersburg, and other venues.